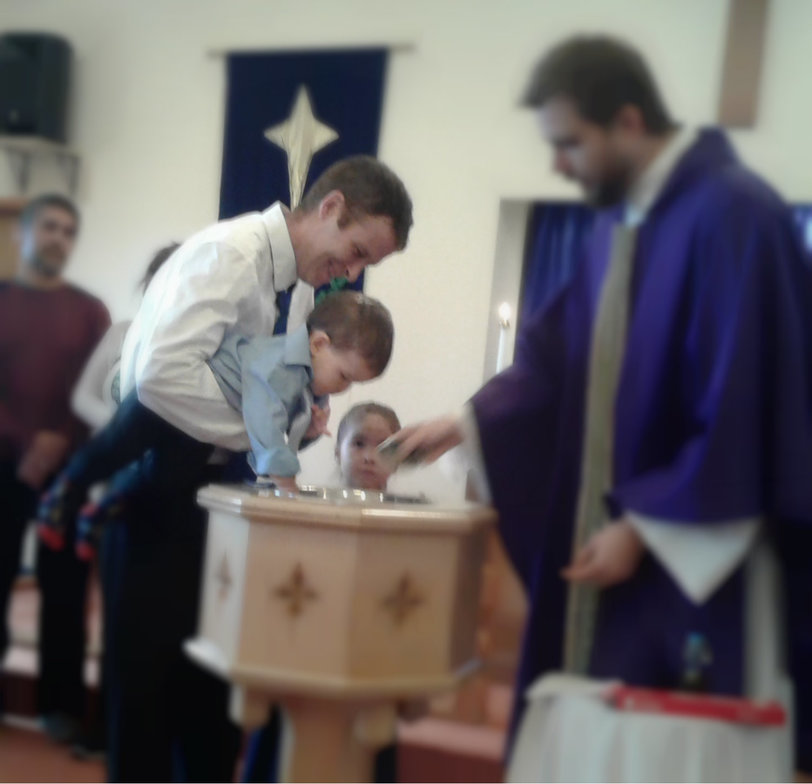 Fifteen years as a front-line worker in shelters and social justice ministry taught the Rev. Alastair Hunting the importance of relationships and listening."Being prepared just to hang out with people, to give them lots of time: that's the essential ingredient in a ministry of presence," said Hunting.
When he first arrived at St. Columba's, a joint Anglican-United Church parish in Port Hardy, Hunting met an Indigenous elder. Through hearing stories of this place within the larger history in Canada, it was evident that a relationship between the church and the Indigenous community had been disrupted and even lost.
But in March 2016, Bishop Logan McMenamie completed his Sacred Journey, walking 480 kilometres from Alert Bay to Victoria and asking permission from First Nations to enter traditional lands along the way. The walk touched many in the North Island. It demonstrated the church's commitment to reconciliation and paved the way for the congregants of St Columba, and Hunting, their new minister, to enter into meaningful relationships with the First Nations. Many at the church hoped St. Columba's could become a place of welcome and a place to find healing and a new relationship together.
"When I first went into the First Nations communities here, I was asked, 'Who are you? What are you doing here?' If it wasn't said, I could see it on their faces," Hunting said. "If you want to create meaningful relationships with First Nations people, you can't go with an agenda."
Hunting had one personal contact on the reserve. A young man he had cared for when the teenager was a resident at the Salvation Army shelter in Courtenay. Then he met Marion Wamiss, a deeply respected elder who lives in the Gwa'sala Nakwaxda'xw community near St Columba. Wamiss is the widow of a former chief and pastor of the Gwa'sala Nakwaxda'xw, and mother of Norman who helps lead the John Charlie Memorial Church, named after her late husband.
Wamiss welcomed the young priest into her home and they talked as though there was nothing more important in the world than spending time together. A dynamic and charismatic presence with her hair dyed bright pink, a twinkle in her eye and steady flow of laughter, Wamiss is a keeper of culture and fluent speaker of Kwak'wala. There's always a pot of coffee on, a listening ear, and a caring heart in her kitchen.
The services at J.C. Memorial were Sunday evenings following a community meal. Hunting decided to go as an ordinary worshipper, returning again and again. After a while, others from his congregation came with him and friendships grew. Then Bishop Logan preached at J.C. Memorial on Good Friday in 2018.
Over time Hunting shared with parish council his vision to build relationships of friendship and trust and leave the results to God. Soon members of Wamiss's church came to St. Columba with their guitars and participated in the service, sharing stories, culture, prayer, laughter and tears. Alison Hunting, the minister's wife, has participated at North Island Building Blocks, a family outreach and support centre administered by the Gwa'sala-'Nakwaxda'xw. It was time to move forward.
The parish could only afford to support Hunting at 70 per cent of his time, so it decided to apply to the Vision Fund to enable him to extend the scope of his ministry in the Indigenous community. The Fund provided funding twice over two years.
Parish council was asked by the elders in the community to introduce the Kwak'wala language into the liturgy and translate some of their favourite hymns. Last year, five Indigenous teenagers were invited to attend the "We Together" diocesan youth gathering in Duncan. "It was really wonderful to see Port Hardy represented and to have their voices heard," Hunting said. In November 2018, St. Columba's organized a fall retreat and took another group of teens to connect with youth at St. George United Church in Courtenay.
The relationship with J.C. Memorial had infused new life into St. Columba's, and its vision as a warm and welcoming place is becoming a reality. It's true that the predominantly senior congregants had to get used to youngsters running around the nave during Sunday services. At first, not everyone was comfortable with this. But on a recent Sunday, when children from two Indigenous families were christened at St. Columba's, the congregation joined in "Hark the Herald Angels," singing in Kwak'wala, while children played in the pews.
Port Alice, 40 kilometres away, is the second church the parish supports. It is on the territory of the Quatsino people who have a long, and far from a happy relationship with the Anglican Church. Hunting hopes that in time the same relationship of trust and friendship can be built with people of that First Nation.
Tony Reynolds worships at St. Peter, Comox. Previously, he was a journalist, farmer and executive director of the Royal Commission on Aboriginal Peoples. Photo: Tony Reynolds