This event has already occurred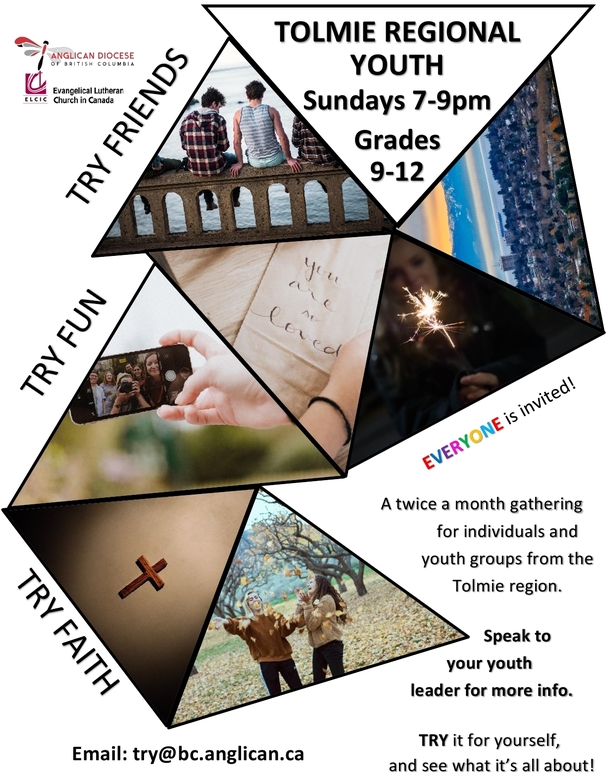 Save to your Calendar
TOLMIE REGIONAL YOUTH (TRY) is a group is for anyone in Grades 9-12 and offers a place where we can have real conversations about spirituality and life! This group offers a safe place to discuss, wonder, and discover our faith. Let's make friends, ask those hard questions, and explore our relationship with God!
Each time we meet is a little bit different – we pray, worship, discuss, make music, and plan a few out trips so that we can engage with our community. The group is youth driven with a focus on discussing topics and planning activities that the group wants to engage in/learn about!
TRY meetings happen every other Sunday from 7:00-9:00 pm at a different parish within the Tolmie Region:
St. Luke Cedar Hill, St. George's Cadboro Bay, St. John the Divine, and Lutheran Church of the Cross are working in partnership to create safe spaces for teens. All are welcome to participate!
Also check out the information about CLAY (Canadian Lutheran Anglican Youth Gathering) at the EVENTS page of this website. CLAY is a 4 day youth conference which brings youth ages 14-19 from all over the country to come together to worship, learn and engage in a variety of activities. CLAY 2020 is happening August 20th-23rd in Calgary.
FOR MORE INFORMATION:
EMAIL: try@bc.anglican.ca or contact our youth leaders at programdirector@stlukecedarhill.ca with questions or to receive weekly youth group emails.
INSTAGRAM: Tolmie Regional Youth (TRY)