What Does a Bishop Do?
If we see the diocese as having two parallel structures—parish and synod—the bishop stands at the head of both of them.
With respect to the parish structure, the bishop is the chief pastor. In this capacity, the bishop consults with parishes and licenses the clergy to their charges. The bishop regularly visits each parish in the diocese, and when present presides and preaches at the Eucharist. The parish prays for the bishop as the symbol of unity between itself and all the other parishes of the diocese, and the wider Anglican Communion.
Bishops are the links that establish communions.The bishops of the Anglican Church of Canada meet three times a year, in a meeting called The House of Bishops. As well, they meet and vote as a house at General Synod every three years. By being in communion with the archbishop of Canterbury, our bishop is in communion with every other Anglican bishop .
The bishop has a direct relationship with every priest canonically resident in the diocese. The bishop may ordain clergy, and all licensed clergy make oaths of obedience to the bishop. The bishop, in licensing the clergy, devolves his or her authority upon them. The bishop also has the power to revoke it with just cause.
The service for the ordination of a bishop in the BAS (Book of Alternative Services) states that a bishop is "called to guard the faith, unity, and discipline of the church."
Within the synodical structure, our bishop is the chair of both the sessions of synod and the Diocesan Council. Synod elects the successor to the bishop, at special sessions of synod.
Our Bishop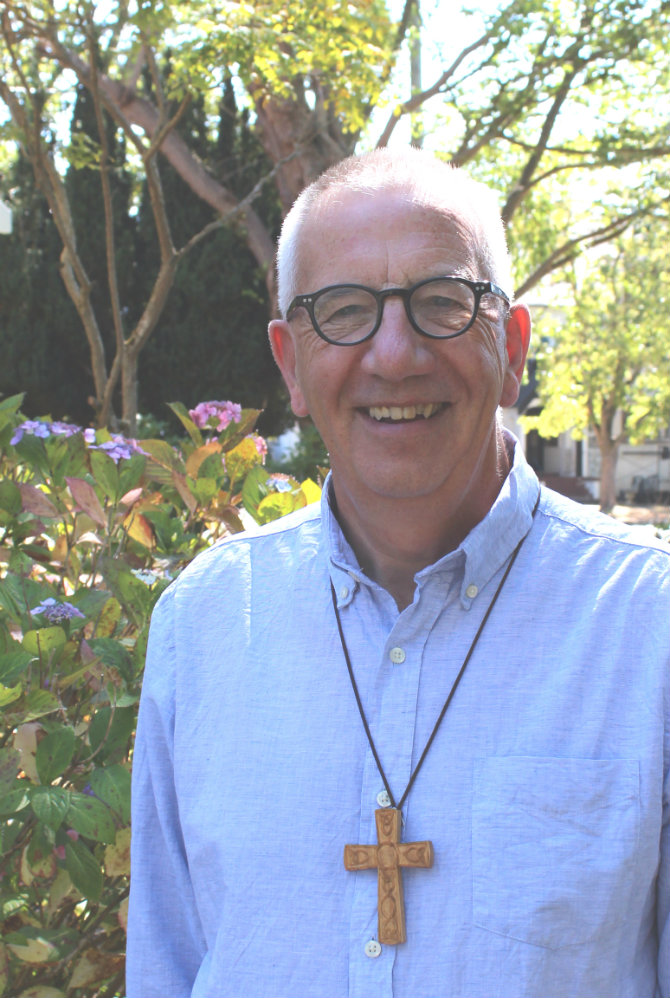 Born in Greenock, Scotland, The Right Rev. Dr. Logan McMenamie was ordained in 1986 and served as a cleric in the Anglican Diocese of British Columbia for twenty-six years, most recently as dean of Christ Church Cathedral, prior to his consecration as bishop in March 2014.
Bishop Logan believes all experiences are sacred and provide opportunities to encounter God because God is present in all times and in all people. His episcopacy is marked by a focus on the following:
Faith development towards social justice and action.
Healing, reconciliation, and relationships with the First Peoples of this land.
Care for and restoration of creation.
Hope for a 21st Century Church
"The church must regain a confidence in who she is in relationship to God through a strong commitment to Jesus Christ and a reliance on the gifts of the Spirit; a church that will look confidently to what it will become through a God-given vision for the future. It is time to move away from the thoughts and conversations of a dying church. We will only die if we forget the God who calls us into being and gifts us with the promise of tomorrow. My hope is that we will move boldly into the future, not triumphantly, but boldly with a confident faith that can and will transform us and the society in which we live."—Logan McMenamie, bishop
Interests and hobbies: Reading, hiking, soccer, camping, baking, and a Border Collie named Moraig
In the News
Times Colonist, January 25, 2020 - "Our stories depict the journey of our lives"
Times Colonist, January 12, 2020 - "Nearing 70, bishop readies for retirement, and days of making toys"
Times Colonist, Janaury 5, 2020 - "Logan McMenamie, Anglican bishop for Island, is retiring in May"
CBC Radio, On the Island - "Anglican bishop Logan McMenamie on same-sex marriage church controversy"
Times Colonist, June 15, 2019 - "Feel the benefit of silence, waiting and listening"
Times Colonist, August 18, 2018 - "Breaking down walls of hostility through friendship"
Times Colonist, July 26, 2018 - "Church is committed to Esquimalt"
Times Colonist, February 24, 2018 - "Family reunions offer lessons in reconciliation"
Times Colonist, October 7, 2017 - "Stories can shape our future and give meaning to the present"
Times Colonist, June 10, 2017 - "Small acts show that love is more powerful than hate"
Times Colonist, May 2, 2017 - "Old Anglican church to become seniors housing in Ladysmith"
Times Colonist, April 14, 2017 - "Carrying a cross to Good Friday service and reflecting on Christ's life"
Times Colonist, February 25, 2017 - "Adventure and attitude"
Times Colonist, January 25, 2017 - "Pioneering clergywoman on what history tells us"
Times Colonist, July 23, 2016 - "Allowing the Divine to enter into human planning"
Times Colonist, July 12, 2016 - "Anglicans accept same-sex marriage after vote clarified"
Times Colonist, July 7, 2016 - "Victoria Anglican leaders argue for same-sex marriage"
Times Colonist, April 19, 2016 - "Ladysmith Anglican church to close its doors"
Times Colonist, March 5, 2016 - "Anglican bishop to begin 480-kilometre walk"
Times Colonist, February 27, 2016 - "Naz Rayani's goal: Bring people together"
Times Colonist, January 15, 2016 - "Bishop's support for homelessness applauded"
Times Colonist, January 13, 2016 - "Bishop seeks solution for Victoria's tent-city dilemma"